2018 Alumni Club Golf Report
June 11 – Bluffs at Coffee Mill, Wabash
Our first event was held on June 11th at The Bluffs in Wabasha. We had 29 people there along with some wonderful weather and a good meal. Bragging rights went to Paul Brown, Jim DeLongpre, John Bazey, and Charlie Graham at even par.

Our next IBM Alumni Golf outing will be held at Pine Island on June 25th, and we will have lunch catered by Trailhead Catering from Pine Island. We have been wanting to golf there for some time, and now we have the meal problem resolved. :) Join the fun. Bring a friend.


Getting ready to make a birdie putt on Number 8
Finishing up on Number 9

Mike Martin (and he did make it)


Clix Schwieters, Georgette Dolan, Sharon Murray and Dan Gronli

Golfers ready to eat lunch at The Bluffs


Rick Adams, Bill Macy, Tom Modjeski, and Lyle Hinnrichs

Wayne Jasperson, Paul Michels and Dick Dahl


Don Eisenmenger and Mary Pat Adams

Paul Brown, John Bazey and Jim DeLongpre

Vic Hartman, Paul and Charlie Graham
June 25 – Pine Island

We were blessed with another great weather day between all the rain, and 24 golfers took advantage of our first Pine Island outing. Andy treated us well, and Alyssa catered a very nice meal from Trailhead Grill in Pine Island. There were many good scores today. Bragging rights went to the team of Ken and Marlene Sabatke, LeRoy Luhmann, and Jim DeLongpre and the team of Don Eisenmenger, Dick Dahl, Dick Thesing, and Mark Ginnrich. They were -1 for the day. At even par were the team of Charlie Graham, Mike Martin, Hal Kossman, and Bob Harmel and the team of Dan Gronli, Sharon Murray, Bob Harding and Bill Kleis. Half the golfers took advantage of the $6 charge for a second nine after lunch.

| | | |
| --- | --- | --- |
| | | |
| Hal Kossman, Mike Martin, Bob Harmel, and Charlie Graham on the 15th tee. Bob hit one right down the middle | | Bob Harding tees off on #17 |

Our next event brings us back to Zumbrota on July 16th after many years. Come on out and join the fellowship. Bring a friend. Please call by noon on Thursday, July 12, to sign up. It is important for confirming attendance for the luncheon.

See you at Zumbrota.


July 16 – Zumbro Falls
We had 24 golfers at Zumbrota on July 16th. It was another nice day, and there were some low scores. First place finishers were Paul Graham, Vic Hartman, Dan Gronli and Sharon Murray at 4 under par. The foursomes of Paul Brown, John Bazey, Jim DeLongpre and Jeff Parker along with Don Eisenmenger, Dick Dahl, Paul Michels and Lou Leonard shot -3. We welcomed John Byrne back; he ran this event some years ago, and his team finished -1. We are keeping our regulars, Clix Schwieters and Georgette Dolan, in our thoughts and prayers after Clix found that his cancer has returned aggressively.

Our next event is at Mt. Frontenac on July 30. It has been our favorite venue the past couple years, and we hope to see some new faces there.

July 30 – Mt. Frontenac
On July 30 we had 32 golfers at Mt. Frontenac. They are tremendous hosts. The weather was perfect, and everyone received a door prize. As usual our format is for fun and fellowship first. So winning gets only bragging rights and everyone has a chance for a door prize.

Bragging rights this time go to Charlie Graham, Vic Hartman, Dennis Noltee, and Mike Martin at -2. Second place went to Bob Harding, Dave Rodenwald, Mike Kanter, and Carl Sutton, shooting -1. It was nice to see some new faces.

The Committee was thinking of calling this our last year, but your efforts to spread the word and assure 24 or more golfers has us signing up for another year.

August 13 - Willow Creek
We had a beautiful day on August 13 at Willow Creek for our 5th event of the year. Scott treated us well with some nice door prizes, and Wanda made a great meal. Everyone left as a winner, but bragging rights went to two teams with a score of -2. Dick Mustain, Hal Kossman and Tom and Mary Pat Adams tied with the team of Paul Brown, Dick and Fr. Ken Thesing, and Bill Kleis. (It definitely helped to have a priest on my team, but I did have to watch my language. :-) )

We hope to see you at Dodge Center on August 27. Bring that friend you have been meaning to call for a round of golf. It really is a good time, and all the courses do give a reduced rate for those who want to play a second nine after lunch.

August 27 - Dodge Center
Thirty people came to Dodge Center on August 27th. We managed to have great weather for the sixth time this year. We hope for the great weather continues for our two remaining events at Oak Summit on September 10th and The Jewel on September 17th.

At Dodge Center our best score came from the foursome of Paul Brown, Jim DeLongpre, Jeff Parker, and John Bazey. (We are currently testing John for steroids.) The other noteworthy accomplishment of the day was Dick Thesing's longest putt that was about 143 feet, give or take?! We had a good time and some good burger baskets.

September 10 - Oak Summit
There were 17 golfers at Oak Summit on September 10th. It sounds like a stuck record (which most IBM Alumni members can still envision), but it was another perfect day of weather. The low score was even par turned in by Marlene and Ken Sabatke, Paul Graham, and Bill Kleis. Rita Roeder and Dennis Noltee made the longest putts, and Dan Gronli won the closest-to-the-pin. Jeff Hygrell provided some nice door prizes, and Rick makes the best bratwursts in North America.

September 17 - The Jewel
Our last 2018 event was at The Jewel on Monday, September 17th. The best score, -2, was turned in by Paul Brown, Jeff Parker, John Bazey, and Jim DeLongpre. Marty Peterman made the longest putt, and Dan Gronli was closest to the pin. Here is a picture of the 26 golfers at the Jewel: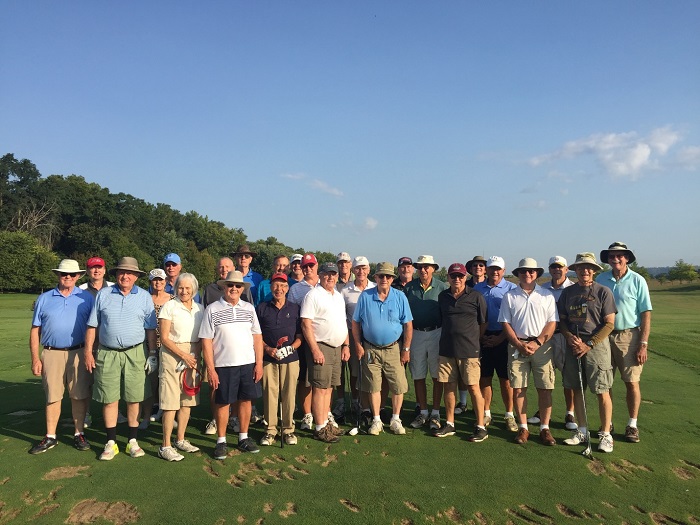 Final comments from the Golf Coordinator
If you are an alumni and haven't come out yet, we will be here again next year. Consider joining us and bringing your spouse or a friend. Also, be sure to stay active during the offseason.

These golf reports were provided by by Bill Kleis, 2018 Golf Event Committee Chair