2017 Alumni Club Golf Report
June 5 – Bluffs at Coffee Mill, Wabash
We had 20 people at our initial 2017 event at The Bluffs in Wabasha. It was a beautiful day, and everyone had an enjoyable time and an enjoyable meal. Bragging rights went to the team of Dan Gronli, Sharon Murray, Bill Kleis and his guest, Steve Riles.



Don Eisenmenger, Jake DeGuise, Dale Hofbauer, and Dick Dahl relaxed outside with their lunch.

Wayne Jasperson, Charlie Graham, Vic Hartman, and Paul Graham stayed inside.

Steve Riles, Dan Gronli, Sharon Murray, and Bill Kleis decided to play a second nine after lunch.
June 19 – The Barn, Preston
Only 12 people made it to The Old Barn Resort in Lanesboro. They had a beautiful day, fun golf and fellowship, and a wonderful meal. Regular golfers are encouraged to invite other IBM Alumni and/or a guest and spread the word about this opportunity to get out and enjoy some time with others. We're always interested in any feedback to improve the course selection and format.
July 10 – Zumbro Falls
July 10 was another beautiful day. Eighteen golfers came to Zumbro Falls. Bragging rights went to Tom Adams, Dick Mustain, and LeRoy Luhmann at 2-under-par. Mary Pat Adams won Closest-to-the-pin and Sharon Murray won Longest Putt for the women. Dick Mustain and Mark Gennrich won corresponding honors for the men. Eleven golfers played a second nine after those delicious burger baskets.
July 24 – Mt. Frontenac
We had 27 golfers, beautiful weather, an excellent meal, great door prizes, and a fine host in Dan Diggins, head pro at Mt Frontenac. Bragging rights went to the team of Jake DeGuise, Dale Haufbauer,Bob Harding, and Vic Hartman at 6 under par. This is a record for our events. (It is not official yet, as the team has to be checked for steroids.)

Special THANKS!!! goes to Tom Modjeski for helping set things up at Mt Frontenac. (He was unable to attend, because he had to attend a funeral.)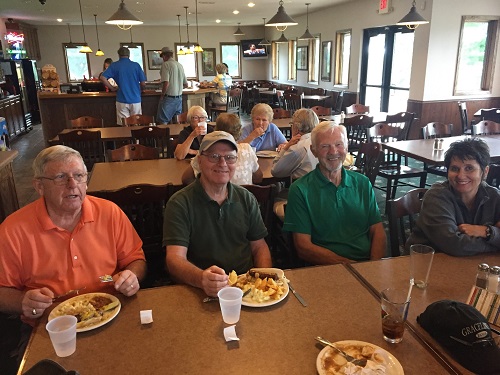 Roger Lewison, Hal Kossman, Clix Schwieters and Georgette Dolan. Roger and Hal are slow eaters.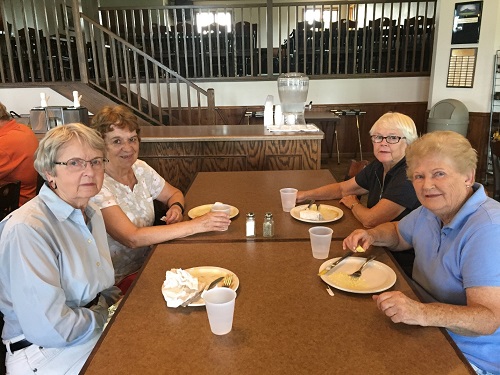 Marlene Sabatke, Joan Haben, Genie Perlenfein, and Jo Sipple had a score that was described as a delightful day?!
Ken Kiefer, LeRoy Luhmann, Charlie Graham, Steve Riles, Jerry Dooley, Mark Gennrich and Paul Graham.
All enjoyed the great lunch at Mt Frontenac.
Wayne Jasperson, Dick Dahl, Vic Hartman, Jake DeGuise, Bob Harding, Dale Haufbauer, Don Eisenmenger, and Paul Michaels are discussing what you have to do to get a score of -6. Wayne Caulfield is standing behind Dick to eavesdrop. Wayne is back from Tucson for the summers, and joined us after many years away. We'll try to get a picture of him from a better angle next time.
August 7 - Willow Creek
We had 23 golfers, another beautiful day, an excellent meal, and great door prizes. Bragging rights went to the team of Marty Peterman, Ken Kiefer, Hal Kossman and Roger Lewison, with a one-under-par score. The next event is at Dodge Center. Fee will be $27 for cart and lunch. The second nine can be played for an additional $3. We have arranged to have a solar eclipse for your enjoyment shortly after lunch while you play that second nine. Please sign up and enjoy the fun and fellowship.

August 21 - Dodge Center
We had 25 golfers, and 17 of them played a second nine holes. The weather threatened in the morning, but we were able to play without a drop falling on us, and those who played in the afternoon felt the gradual effects of the eclipse shadow. No one broke par today, but everyone had a good time. The second nine cost an additional $3, so it was very inviting after the burger baskets.

September 11 - Oak Summit
Bragging rights went to Charlie and Paul Graham, Hal Kossman and Dick Allen at one under par. The team of Mike Martin, Vic Hartman, Ken Kiefer, Bob Harding and Bill Kleis came in at 3 under par, but they were disqualified since they were a fivesome. :-) Marlene Sabatke, Jo Sipple, Genie Perlenfein, and Jeanne Haben had putting honors with six one-putt greens.

September 18 - The Jewel
Twenty-eight golfers braved a little rain and brought our season to an end at The Jewel. We were pleased that we had seven women competing for women's closest-to-the-pin and longest-drive contests. The team with the best score in the best-shot format included Lynn Didier, Vic Hartman, and Charlie and Paul Graham.

Special Comment from the Golf Committee
We look forward to next year. We will substitute Pine Island and Zumbrota Golf Courses for The Barn Resort and Zumbro Falls, respectively. We hope some of our newer IBM Alumni/Retirees will join in as a few others fade into the sunset. Our goal is to have a minimum of 24 golfers for each event. That makes it worthwhile in terms of planning, reduced costs, and justifying a shotgun start at the courses. See you 2018.
These golf reports were provided by by Bill Kleis, 2017 Golf Event Committee Chair